Marcio Gomes and his pregnant wife Andreia escaped the burning tower with their two young daughters Luana, 12, and Megan, 10.
But following the fire Andreia was placed into an induced coma and the son, Logan, who she had carried for seven months was delivered stillborn by caesarian.
He has been recorded by police as the tragedy's youngest victim.
In an interview with BBC's Newsnight, Marcio, 38, told how the family had no choice but to attempt to climb down the stairs as flames entered the flat.
The programme said they had made up to five 999 calls and been advised that firefighters would rescue them, but decided to flee just before 4am.
Marcio, an IT manager, said: "My room was on fire, just like that. All my curtains were on fire. My moses basket was on fire. All that side of the window was all on fire.
"Literally I grabbed the door, because it's a fire door. I shut the door, and then I looked at them and I said, 'We have to go now. There's no turning back, we have to try. It's now or never.'"
Marcio and his family, along with neighbours Helen Gebremeskel and her daughter Lulya who had taken refuge in their flat, prepared to leave, wrapped in wet tea towels and sheets.
He told Newsnight that acrid smoke made it difficult to breathe.
He said: "The smoke was certainly so intense that as soon as you took a mouthful of air, in this case smoke, you were gagging. You were constantly gagging all the way down.
"I was, and I can't even imagine what my daughters were going through."
He described how the family were forced to step on the bodies of people collapsed on the stairs.
He told the BBC: "What I didn't counter for was the amount of bodies we had to trip over or step on. We were stepping on people's arms or legs."
He said: "I kept shouting to the girls, 'Keep going, keep going. Keep going down the stairs'. Trying to give them as much encouragement as I could.
"But at one point my daughter replied back to me and said, 'I can't'.
"It was coming from behind, so that's when I realised that she must have let go of the rail."
Marcio tried to reach his eldest daughter, Luana, but she had stopped talking. Then, luckily, he saw the light of a firefighter coming up the stairs.
In the chaos he had become separated from his wife and their youngest daughter Megan, but later found out that they had also escaped, along with their neighbours.
Andreia, a clothes shop supervisor, was placed into an induced coma along with her two daughters.
Marcio told Newsnight that doctors told him in these scenarios they treat the mother as a priority, and later broke the news that Logan had passed away.
While not certain, it is suspected that the baby's heart could not cope with the lack of oxygen, he said.
Watch commemorations from the Grenfell Inquiry here.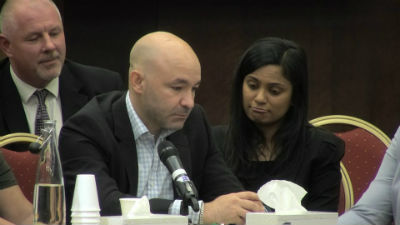 Play clip 11 min
In his emotional commemoration during the inquiry, Marcio spoke of how hard he worked to prepare a nursery for his unborn son. The caption "Twinkle twinkle little star, do you know how loved you are?" was painted on the wall.
The family had a lighthearted disagreement over which football team Logan would support - settling on both Benfica and Liverpool.
Had the tragedy not happened, the family planned to visit Disneyland together.
Last updated: 31 May 2018