Gary Gibbon takes a look at how the leaders are faring in the debate: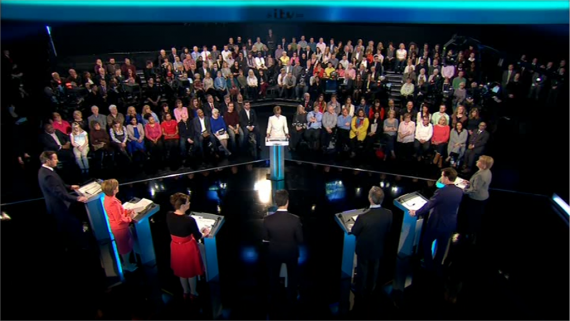 Leanne Wood has thrown herself into the Left attack on Ed Miliband. Ed Miliband nodded as she spoke of the problems of the neglected valleys in Wales. Nicola Sturgeon put it to Ed Miliband "why did you vote for £30bn of cuts?" Then Natalie Bennett chipped in supportively – "Nicola Sturgeon is right" (on austerity) – maybe this will become the catchphrase? It's the Nat/Green pincer that some around Ed Miliband worried would happen.
David Cameron had one of the moments he most hopes will get on the news bulletins waving his hand down the row of other leaders saying what he was hearing was "more debt" and "more taxes" repeatedly. Nicola Sturgeon took David Cameron on, standing side by side, on welfare cuts in a way her supporters will love.
They move onto the NHS which is an area they will all have expected but it's worth saying they didn't know the subjects that would come up for sure.
The party backrooms are furiously firing out their versions of how their leaders have done. One of the excitements in the Ed Miliband camp after the Paxman/Burley experience was how many people googled their leader's name after the programme … so if you want to doctor the measurements of success start googling your favourite leader.
I have no idea how Julie Etchingham is managing it but she is somehow keeping a tally of timings and keeping things balanced. It's an extraordinary achievement. I wonder how this whole thing would've gone if it was all male.
Nigel Farage had a pop at Scotland with a flavour of something that hasn't really surfaced since dissolution but which will no doubt be heard more in the coming weeks, perhaps even more afterwards. He said: "English taxpayers are a bit cheesed off with so much of their money going over Hadrian's Wall."